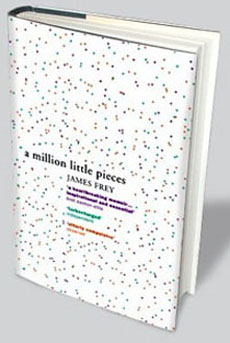 Author: James Frey
Genre: Biography, Drug Addiction, Rehab
Guidance: May not be suitable for Kids
What do you know about addiction, in particular, addiction to drugs? You have seen it in cinema and sometimes you would have read about it as well. But do you really know what addiction to drugs is? What exactly it means to try and get rehabilitated? What and how are these rehabilitation centers? What kind of a fight a rehab patient puts up against the temptation to do it again? Just once? In a small quantity that wouldn't hurt?
Yes, probably you could have read and seen it on TV or in movies but, this book takes it to next level. Intense, unpredictable, explicit and face-the-truth-in-your-face story of Mr. James Frey during the days of his addiction as well as during the rehab, 'A Million Little Pieces' is a true account (with a bit of creative freedom) of James Frey's life.
Though there are many rumors of the facts being embellished, the book makes for an engaging read. It talks of all the troubles an addict goes through, his rub off with the law enforcing bodes, criminal charges against him and despite all these he manages to go on. My words may not do enough justice to the story, so let me quote few of my friends' take on this book.
"The book made me laugh, made me ill, it shocked and saddened me, and I cried at the end. It made me appreciate NOT having to go through what James Frey went through"
"A Million Little Pieces is an uncommonly genuine account of a life destroyed and a life reconstructed. It is also the introduction of a bold and talented literary voice."
I will let the book do rest of the talking, go get hold of it for if you are a connoisseur of good writing, you will never regret having bought this book or having read this book.